Hi All!
I have lined up an inspirational post for you today – I'm talking about loads of laundry inspo! How can anything to do with laundry be an inspiration, you may ask? Well, if you have a home that doesn't allow for an oversized kitted out mudroom and laundry space, or if you are tired of looking at yet another appliance, then this post may be just the inspiration you need!
I have had my fair share of experience with laundry rooms and it can be tricky space to work with. How can you maximize the space you have, yet still keep it functional for laundry day? There are so many great ideas out there and many fabulous designs to help you answer that question and achieve that goal. One of my favorite solutions is the closet laundry space. Gone are the days of tucking away the washing machine and dryer in a closet and shutting the door to simply get them out of sight. Welcome to the days of embracing the closet and creating a luxe laundry "room." From eye catching wallpaper to decorative storage containers, custom cabinetry to chic shelving, and so much more.
Believe it or not, you can do all of the above in a 3'x5' closet! Not convinced? Take a look at this House Beautiful article…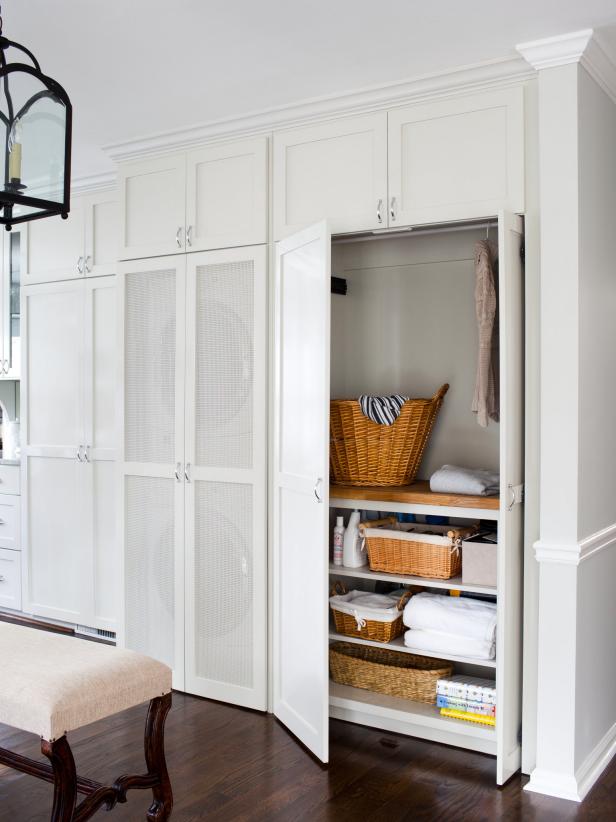 HGTV | Designer: Giana Shorthouse from TerraCotta Design Build
Southern Living | Photography: Laurey W. Glenn
Do you have ideas on maximizing a small space for a functioning laundry room? I'd love to hear/see!
Kindly~Michelle