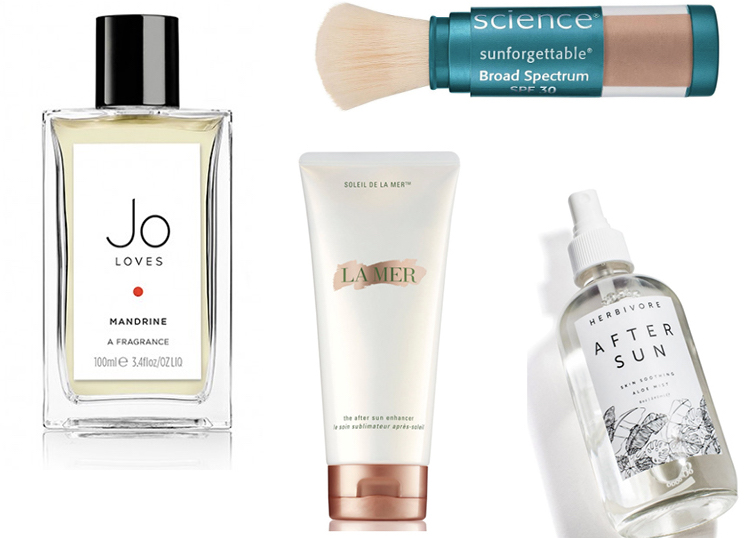 Self Care Series: Summer Care
Spring is in full bloom and Summer is approaching fast. It's that time of year to get beach sand in between our toes, enjoy poolside afternoons, float the river, or simply relax on the patio.   While you are out basking in the sunshine and loading up on some Vitamin D, don't forget to take care of your sun kissed self! From sunscreen to sun hats, here are a few of my favorite (and new found favorite things to keep pretty and protected this Summer.
How about a brush on sunscreen that can be applied with or without makeup? It's Sunforgettable. Say goodbye to that greasy lotion skin!
For those soaked up a little too many rays… Herbivore's After Sun spray. "A soothing spray that uses an all-natural formula of aloe, cooling mint, lavender and witch hazel to provide relief to hot, sun-exposed skin."
And for those who want a little "post sun pampering", The After Sun enhancer from La Mer.
Beach to Street Cover-up Dress. Throw on some wedges and this could almost pass as the perfect dress for brunch!
Have a little bit of fun with your Summer get up. This sassy raffia sunhat from Kate Spade is ticking all of the Summer fun the boxes!
Retro-inspired sunglasses – do they ever go out of style?
For Summer in a bottle and all day freshness, Jo Loves Mandrine is one of the favorite fragrances of the season.
"This wonderfully bright and sophisticated citrus cologne instantly transports you somewhere familiar where the sun warms your skin and you feel completely content and carefree." – Jo Malone
The only towel you will need this Summer. From tablecloth to picnic blanket to beach towel… The Turkish Pestemal Towel
What's in your Summer bag? How are you treating your self this Summer? I'd like to hear all about it!
Kindly~Michelle