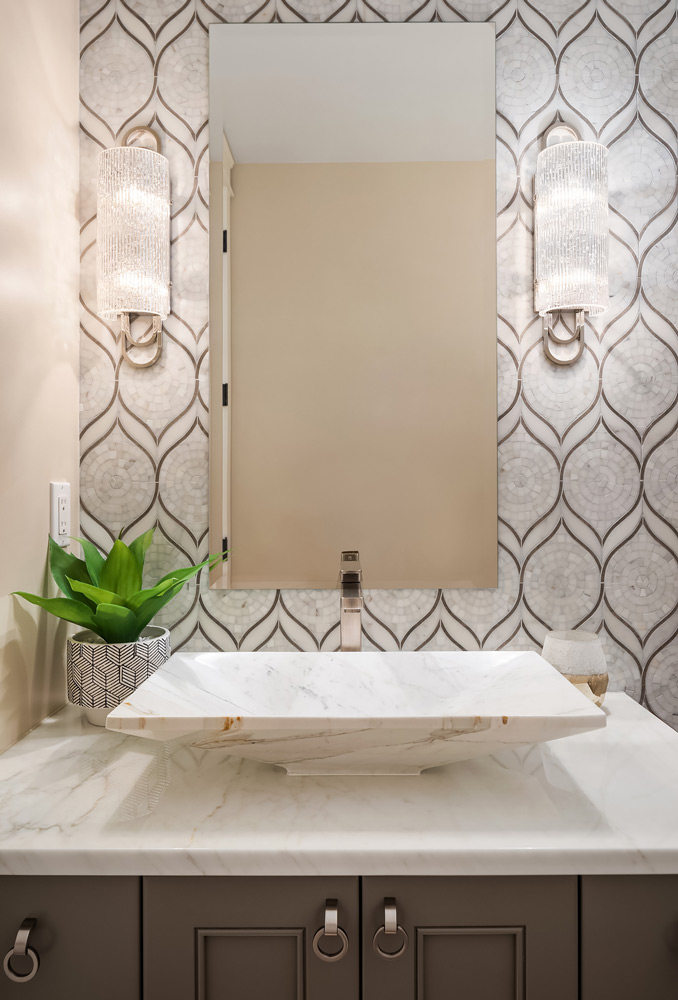 Hi All,
Today I'd like to share some insight on adding eye-catching personality to a wall with mirror and glass tile. From backsplashes to accent walls, mirror and glass tile can be incorporated into so many spaces to add a unique and stylish look. Not to mention one of a kind!
One of my favorite characteristics about these two tiles is its durability. Yes! This luxe tile is not only pretty, but also durable and easy-to-clean. This is why I specifically love to incorporate these elements into bathrooms and kitchens. Beyond function, mirror and glass tile brighten up a room with reflective qualities and add the perfect amount of shine to an otherwise dull surface.
Material sourced from United Tile
In our Sammamish Lakefront Design & Build, we wanted to create a show-stopper powder room for our client's guests to talk about. So, we selected a beautiful marble tile to create movement and a detail with the intricate mosaic details.
Material sourced from Artistic Tile
The powder room in our Eastside Estate project is one of the favorites! A starburst design was created with a mix of mirrored glass tile and marble.
Material sourced from Artistic Tile
All in all, luxe is totally livable with the use of glass tile!
Kindly~Michelle