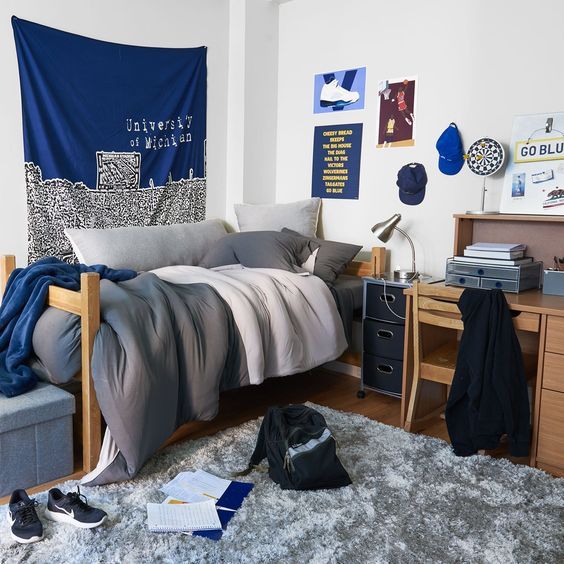 Can you believe it – it's almost time for that time of year… Back to school! From at home learning during a pandemic, to hybrid, to back to school – I feel like the school year has been a blur. Can anyone else relate? Summer break was couldn't have arrived sooner. I loved have the family together under one roof with the freedom to spend time with friends and venture out a little bit. This Summer break definitely felt like a breath of fresh air.
But now, it's time get our college-goers ready for another school year. How do you make that happen, you ask? My favorite way is to join in the joy of decorating a space of their own. The dorm room is a special place for a college student – a study space, a friendly space and a space to be alone when needed. Creating an inviting and comfortable space can make all the difference after a long day of studying.
Let's talk about decorating dorm rooms through online shopping. If you'd like to skip the masks and the crowds, online shopping is the way to go – and it can be just as exciting (who doesn't love a little Pinterest browsing for inspiration, or catching on the New Arrivals on their favorite online store?!)
Let's start with style. Boho-chic, warm tones and big textures are a girls best friend right now. From Anthropologie to Pottery Barn. If your "little" lady enjoys a more simple look – a crisp palette with soft accents is also trending across the web.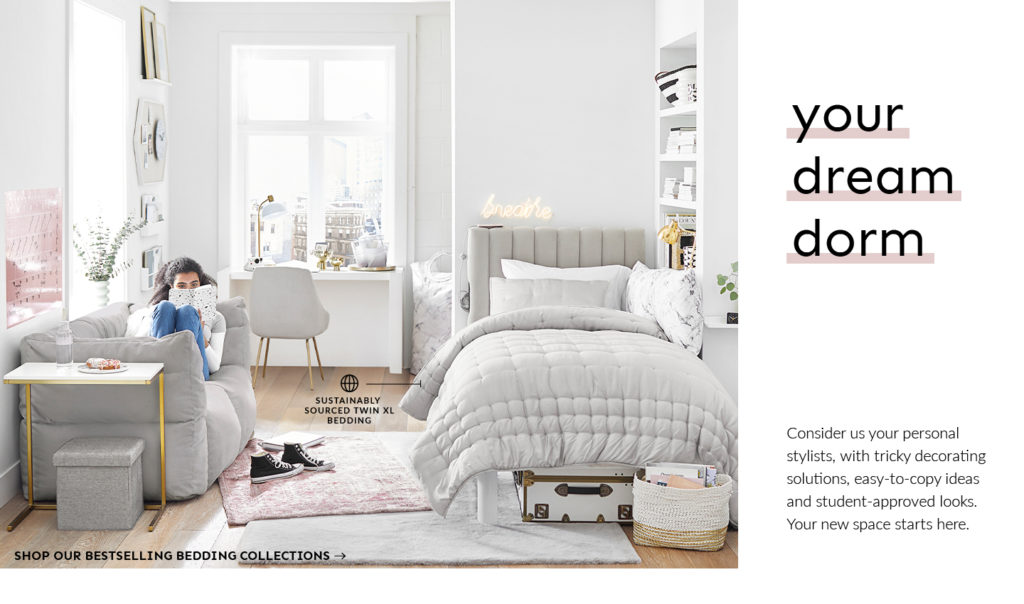 For the young men – sophisticated and all grown up is what its all about…I suppose that goes beyond dorm styling too! 🙂 Moody tones, soft textures and a little plaid and stripe patterns here and there. Guys tend to be less interested in all the latest trends, and more interested in simple but functioning. I love this article from HGTV – it offers great visual ideas for items to do just that.
Storage and organization
…are priority! We all know the trick of raise beds for underneath storage, but here are 3 more quick tips:
Multi-use furniture – like ottomans that work as seating and extra storage space.
Take advantage of vertical space – with over the door hanging baskets, shoe racks and towel racks.
Above the bed and desk storage – with shelves that can hold baskets or bins, hooks and for necessities that tend to clutter. This will also add some dimension and added styling to their space.
Last but not least
Let's all be honest – the furnishings aren't going to be heirlooms and they may grow tired (or grow out of) the decor they choose. So, thrifty shopping is a great way to go. My favorite places to look for beautiful, affordable finds – Etsy and Society 9 are great for unique but not out of budget artwork and accessories, Ikea for furnishings and they have some great options for storage items and Pottery Barn runs some amazing specials on bedding. For ideas on some of the best places to shop online for dorm room furniture – of any budget – check out this list. And, let's not forget everyone's favorite go-to for online shopping – AMAZON! I rounded up some of my favorite finds:
Good luck, my fellow parents!
Kindly~Michelle