Hi All!
Summer is active and busy, but sometimes as working Moms and Dads we want to just stay home on a week night and relax in our own backyards.  But how to include and keep the kids busy, or have an impromptu get together with neighbors? It doesn't take much to create an outdoor space that ticks all the boxes of entertaining a gathering of all ages. Here are some ideas:
– A drive-in movie experience in your own backyard. With a white sheet and a few things found in your own home and garden, you can design your very own screen. Here is a great DIY tutorial I found on HGTV. If you have white exterior paint and enough space to act as a screen, you are all set! 
For the seating, there is no need to go over-the-top. Add a throw pillow or two for some extra comfort. Over-sized pillows and poufs covered in indoor/outdoor fabric layered on a blanket will be the perfect setting to stretch out and relax. And sometimes, all you need is your favorite throw and a cushion.
– For refreshments, I purchased a simple multi-use table to re-create a stylish refreshment station I was inspired by. It has been a huge hit! I've used the table for graduation parties, 4th of July gatherings, birthdays and just a weekend s'mores station.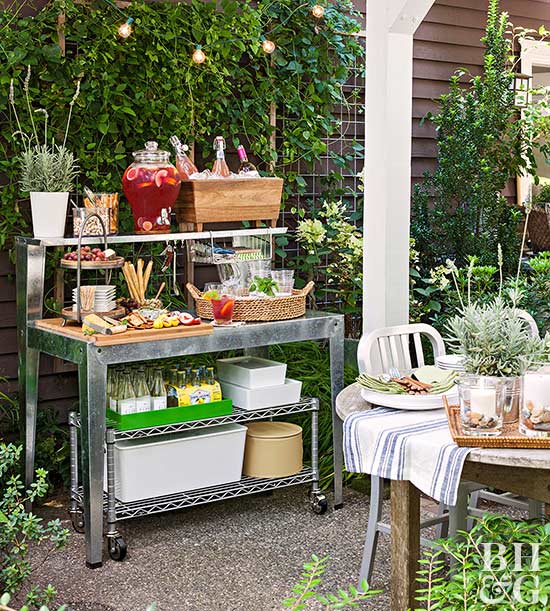 – You can't beat an old fashioned lawn game to get everybody together. This is the perfect activity that is both adult and kid friendly. Corn hole, Horseshoes and Bocce are some of the favorites. LL Bean carries a few of the classics … and personalized bags or equipment is just the cherry on top!
– The perfect ending to a long day, or the best part of the garden party is a fire pit gathering. How do you get the kids to sit still and enjoy? S'mores! If you're not one for twigs as makeshift roasting sticks, then you're going to love these telescoping forks, and colored handle tips will keep the kids fighting over sticks!
How are you spending your Summer days? Do you have any ideas for a fun backyard gathering? I'd love to hear!
Kindly~Michelle