Kitchen design is changing to create more butler pantries, sculleries (there's one we haven't heard of in a while!) and chef's kitchen spaces to keep the main kitchen minimal and keep the mess and secondary appliances out of site. Today we're going to talk about those spaces and clear up a few things about the differences between each.
The Scullery
What is a scullery? Traditionally, the scullery is a room in a home that is used for all the dirty work when it comes to cooking, cleaning up and even laundry. Historically, sculleries were mostly seen in wealthier homes (or manors).
Today sculleries are still popular to hide the messy prep work or dirty dishes while hosting guests. This way, the main kitchen is clutter free and a blank beautiful space to be used for serving beverages and appetizers. The kitchen remains a clean hub for visiting and entertaining – no "excuse the mess" required. 😉
The Butler's Pantry
The scullery is often mistaken as the butler's pantry – but, there is actually a difference between the two. Historically, the butler's pantry was a space off the dining room used to house valuable dishes and utensils for formal dining. It served as a space where the butler would ensure meals were prepared and presented in the proper way before serving diners. Traditionally, the butler's pantry is smaller than the scullery and doesn't house the features used to prep food and wash up.
Today, the butler's pantry still mostly serves as a space to store dinnerware, napkins, placements as well as cooking appliances. But the modern day add-ons, like prep sinks, bars, beverage refrigerators and more are beginning to turn a butler's pantry into a scullery. Because of this, a blurred line has formed in between the two.
Finally, The Chef's Kitchen
The chef's kitchen – a term you may have heard a lot about recently. Imagine a restaurant style kitchen in your home (except luxurious and stylish!). It is a kitchen where culinary comes first – hosting and entertaining plays second fiddle. Equipped with top of the line appliances and cook tips usually not found in regular kitchens. Like, commercial grade gas range, sub-zero refrigerators, multiple ovens and sinks, commercial grade faucets, large dishwashers and warming drawers. Other features are ample storage and large enough to host more than one cook or baker. Kitchen design is seeing a combination of a Butler Pantry-Scullery-Chef's kitchen, all in one space. Multiple tasks for prep, cooking and clean up.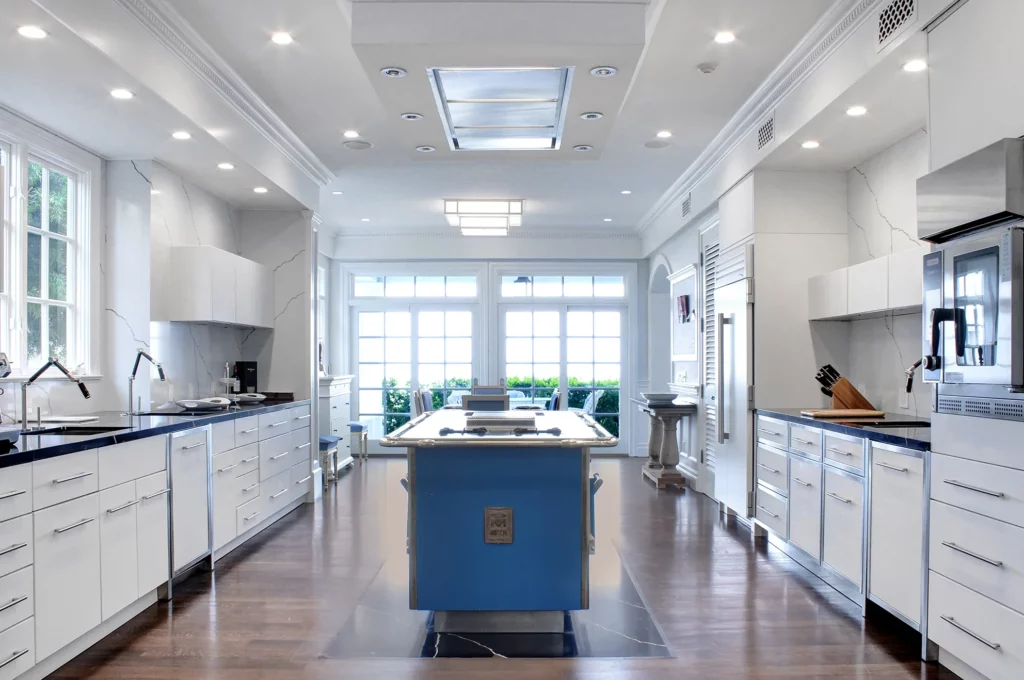 See how we transformed an unused formal dining room in our Eastside Estate home into a fully functioning, modern day combination butler's pantry and Scullery. All the storage and prep, with a warming drawing and beverage refrigerator, plus all the necessities to clean up the mess with a full size sink and dishwasher.
Kindly,