What's really trending?
In the design world it can sometimes be hard to keep up with the latest trends, it change from one magazine article to another and blog posts can be based on personal preference. Are darker hues really the way to go, or are we still loving white on white? Is Greenery still making waves? And are metallics hot or not? Well, with a little help from insider access to wonderful places like Highpoint Market, the opportunity to see and feel the newest fabric releases and some consistent predictions from our favorite design magazines, this designer is here to share the trend that are really trending. Today, we're going to talk about what kitchens are looking like this year.
We are seeing darker and moodier kitchens – out with the white on white! Think warm and cozy, bold and beautiful with less sparkle and more matte. The world of hardware seems to be tilting towards blacks and darker metals and the color palette is inspired by setting the mood with comfort and a touch of intensity. Patterned flooring and tile detail – think herringbone, chevron and bold geometrics.
Another design approach is blend of natural materials and earthy color shades in a modern or contemporary decor setting. Think wood (oak in particular), concrete, ceramic, metal (textured being the leader) and organic glass.
With all of this talk about dark, metal, glass and concrete, you may be seeing nothing but modern and contemporary images flashing before your eyes. Don't be fooled, these tones and textures have infiltrated traditional homes and even rustic cottages.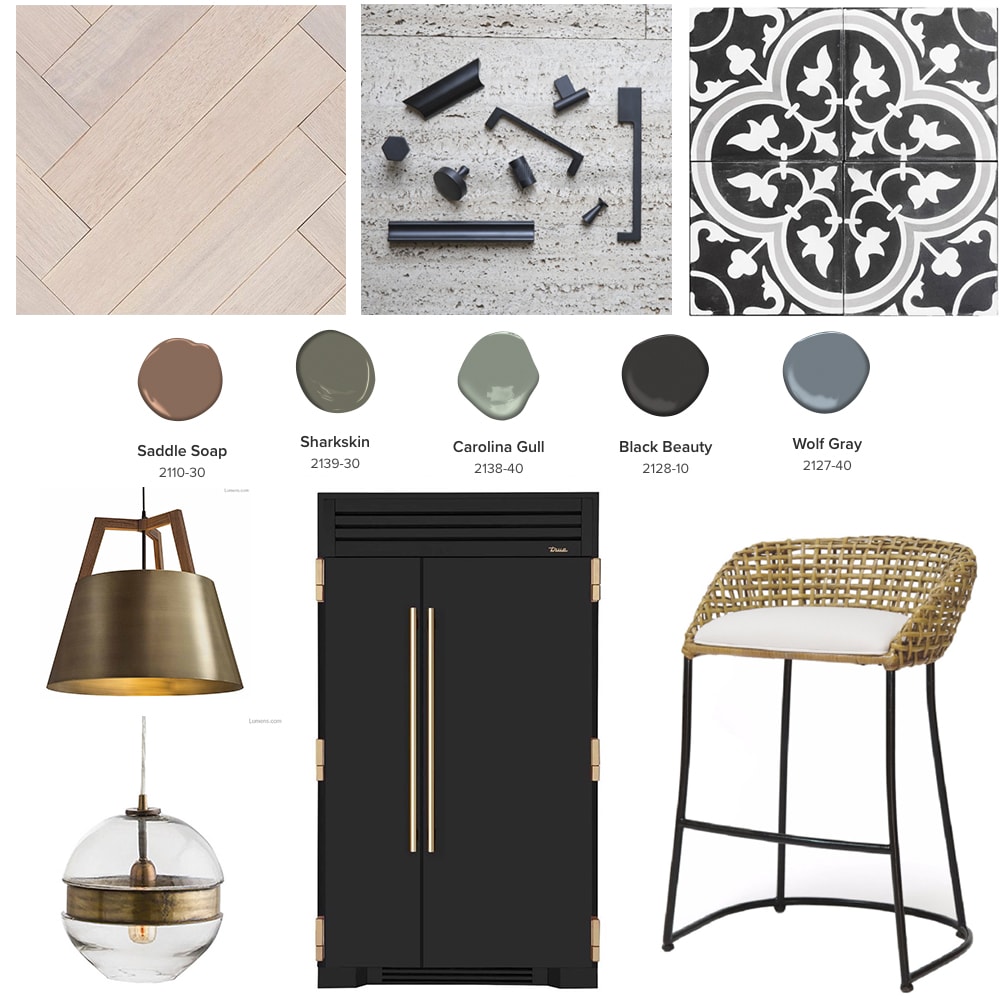 Herringbone Pattern Prefinished Wood Floor by Carlisle / 2. Hardware by Schoolhouse Electric & Supply Co. / 3. Mineral Pigmented Wall and Floor Cement Tile by Rustico Tile & Stone  / 4. Benjamin Moore Color Palette / 5. Wood and Metal Pendant by Cerno / 6. Mouthblown Glass Pendant with Brass Band by Arteriors / 7. The True 48 Refrigerator by True / 8. Open Weave Rattan Bar Stool by Palecek
Stay tuned this month for more trend chatter from Michelle Yorke Design.