As a designer, I am always seeking out inspiration. Whether it be exploring the interiors of shops and restaurants, viewing galleries or flipping through the pages of magazines. For at the finger tips visual inspiration, I enjoy a little bit of Pinterest browsing. Don't we all?
Pinterest is more than a place to find the best recipes or trending craft projects. I find it to be the perfect place to spark creativity. Admiring can truly be inspiring. So browsing through the curated works of some of the most talented designers, architects, artists and trends can be all I need to jog some inspiration on an otherwise dull day.
While scrolling through my feed, I found my top 3 pins of the week…
A luxe kitchen from Luxe Magazine. The idea of a double tiered island with a fun pop of color that contrasts the cabinets – love it! And how about those low, curvaceous barstools!? | Interior Design: Rebecca Salcito | Photography: Nick Johnson | Architecture: PHX Architecture | Home Builder: Anthony Salcito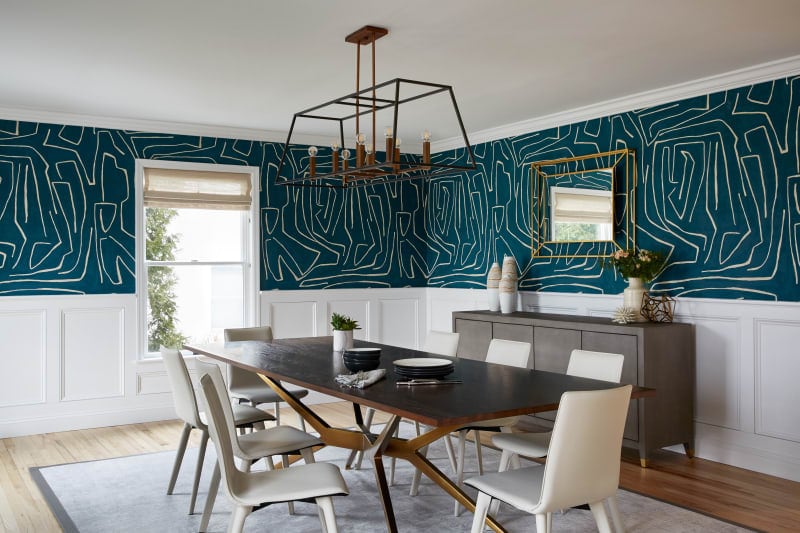 Graphic, metallic wallpaper from Kelly Wearstler for the win! The mod furnishings and grand chandelier are quite fabulous, but again, that wallpaper! It brings to much jazz to a dining room that could have otherwise gone the traditional route. | Domino | Interior Design: Gianna Marzella / Homepolish | Photography: Seth Caplan
And a little bit more Kelly inspiration. If you're looking for a little, or a lot, of WOW in your room – browse her line of show stopping wallpaper.
A collection of styles and eras with bold tones. When blues, yellows and greens come together, you know something fresh is about to happen! | Milieu Magazine
Find me on Pinterest!
Kindly ~ Michelle