Last week we started our holiday prep series with the all important planning and making lists. If you didn't have a chance to check it out, you're missing out on some good ideas get you prepped and organized for the upcoming festivities! Now it's time to talk about that table!
Decor in any room at any time of the year adds personality and jazz, it sets the tone for the overall atmosphere of your home. Around the holidays, it truly does set the mood for festivities and entertaining. Table decor is a fun, sometimes forgotten way to turn a wonderful dinner into a spectacular dinner party. Here are 3 tips to get you started and some ideas for inspiration to create the perfect tablescape-
-Start with planning. The most important question to ask is how many guests will you have at your table? Once you have that settled, it's time to take inventory. Make sure you have plenty of seating, dishes and glassware for all guests – it never hurts to have an extra setting or two for last minute invites. Do you have special dishes or silverware that need to dusted off and polished? Add it to your to-do list. Will you be using your own dishware? If not, start making a list of the items you need, or would love. BEFORE you go shopping, create a spreadsheet – itemize decorations, serving, glass and flatware you already have on hand. This will save you from duplicates and wasted time and money.
-Now that you have your table setting planned out and you have settled on a style, it's time to go shopping. This is the best time of year to start shopping for holiday decor thanks to all of the those pre-holiday sales! To save time and keep it budget-friendly, take care of two tables in one go. Choose decorative items and dishes that go from Thanksgiving to Christmas without skipping a beat… or adding/removing items.
From napkins and tablecloths to cutlery and glassware, they can be functional and decorative, so think about incorporating them to create a cohesive, stylish look. Set the seasonal tone with whimsical pumpkin plates and a table runner, woven chargers and linen napkins for texture and cutlery with a rustic touch. Find this setting at Pottery Barn – on sale!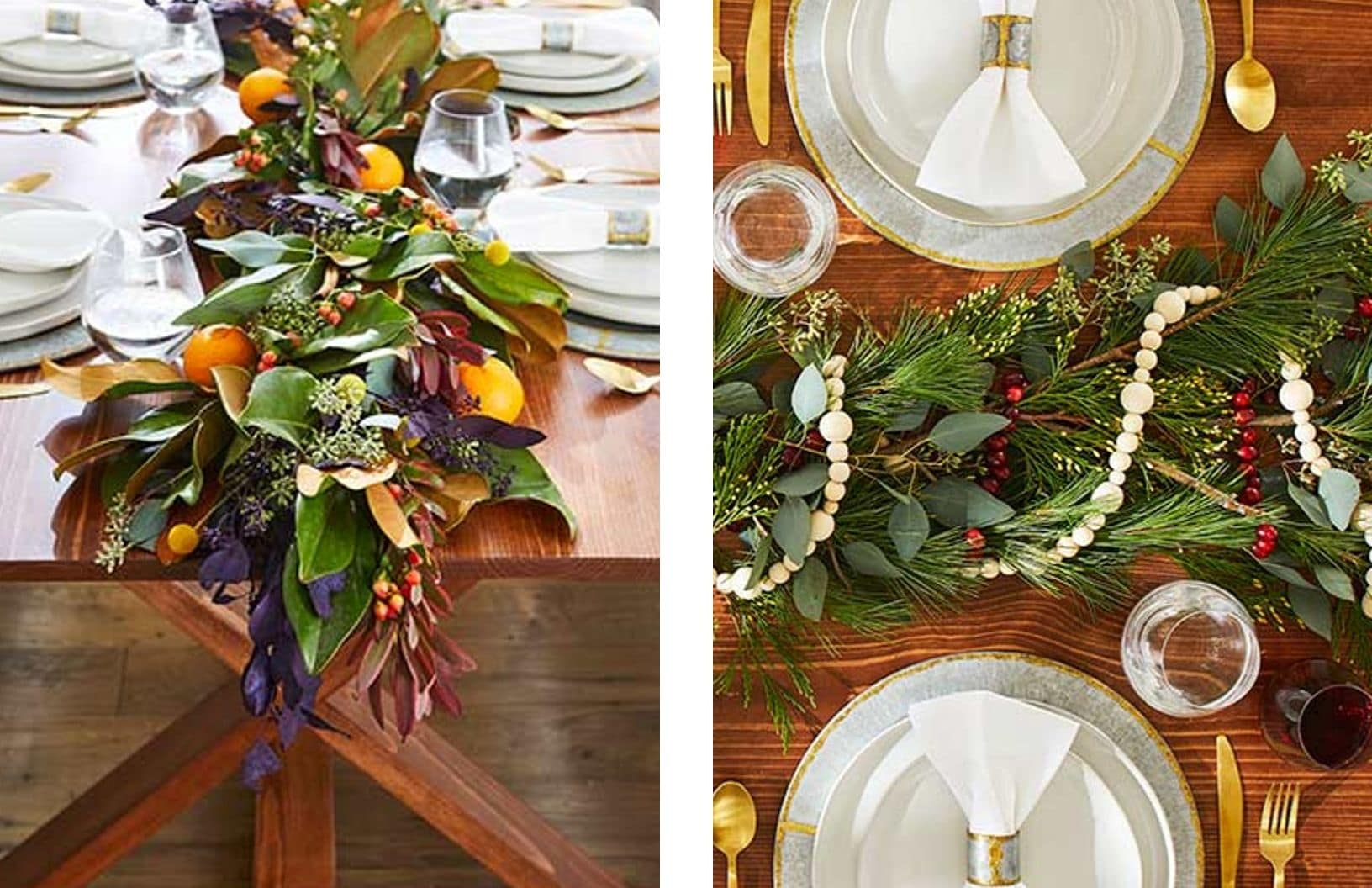 A centerpiece that can go from Thanksgiving to Christmas – magnolia leaves, fall tones and the classic holiday scent with cinnamon sticks. A blend of gold and silver are go-to colors for flatware and plates. Metallic anything always adds a festive touch. If you want your table to accent each holiday, an easy way to do it is to simply change out your center piece. In this setting, they kept the same dishware but added a classic holiday touch with greens and cranberries accented with a wooden bead garland for a rustic touch.
-Once you have nailed down the styling and setting, set up a mock set in advance and take a picture. That way you have all your dishware and decor pieces ready to go. Instead of focusing on decor, you can be focusing on meal prep or simple relaxing. An added bonus – having the picture, you can even delegate the set up to another family member and give it the final touch. My 13 year old daughter loves to take on this task….Teamwork! If you are serving a buffet-style dinner, do a trial run buffet set up. (Design tip: Keep plates and the beginning of the line and flatware and napkins at the end.) Add some decorative touches to your buffet table to keep it festive and cohesive with that fabulous table you just styled.
(Vietri)
'How to Set a Table' from Real Simple will help you set the perfect table from a basic table setting to casual and formal.
Peppermint inspired – red, white and stripes all over. For a little DIY touch – candy cane place cards and a ribbon centerpiece tutorial here.
Next up in our series – Gift Wrap and Gift Guide!
Happy shopping and styling!
Kindly~Michelle