The weather is turning, despite a little bit of rain in the PNW, it's time to start moving things outdoors! Whether entertaining or preparing entire meals, the back patio is a place that can serve as more than just a space for lounging (not to dismiss a good afternoon of self care on the patio). So, let's discuss the outdoor kitchen!
Fully functioning outdoor kitchens have been quite popular for many years now. As designers, we saw a huge rise in demand to take the indoors outdoors during the pandemic. Clients not only requested more covered seating and dining, they wanted a complete patio overhaul – including a fully functioning kitchen. How did we achieve this? This list of 10 tips to create the ideal outdoor kitchen will show you.
Storage
Storage is a top priority. Having a place to keep all the cooking and serving necessities will eliminate the need to walk back to the indoor kitchen. Why use two kitchens when you can cook and serve out of one? The point of an outdoor kitchen is to do all the indoor things in the outdoors. So, as we said, ample storage is a must. The most common storage options are drawers, they provide a space to organize utensils and cookware while keeping workspaces clear of any clutter. A feature that magnifies fully-functioning.
What are the most common cabinet design options for functional storage?
Storage doesn't stop at drawers. Custom cabinetry gives the flexibility to design spaces that will hide the bulky, unsightly necessities like plumbing and propane tanks. Storage cabinets will keep them accessible while keepings the overall design looking more like an indoor kitchen. Cabinetry is also and opportunity to design a stylish and thoughtfully designed space. With endless options of style and color, custom cabinetry will be the design style focal point. Those common cabinet designs are: islands, sink and grill cabinets, wall cabinets, multi-drawer base cabinets, door/drawer base cabinets, full height door base cabinets.
The Kitchen Essentials
We've covered storage, now what do you need to get the kitchen functioning. The appliances. The three most common and basic appliances/features are, the multi-burner gas stove top, refrigerator and sink. Prep sinks often take over the full sized sink when you're dealing with a smaller space but the full-sized sink is the most sought after. Having the space to rinse and clean dishes after a meal keeps you from stacking and carrying dirty dishes indoors. As kitchen designs have progressed, so has variety. The desire to cook beyond the average barbecue has increased.
Aj Madison and Build.com are two of my go-to sources for indoor and outdoor appliances. They both offer outdoor appliance packages to help you get the features you are looking for.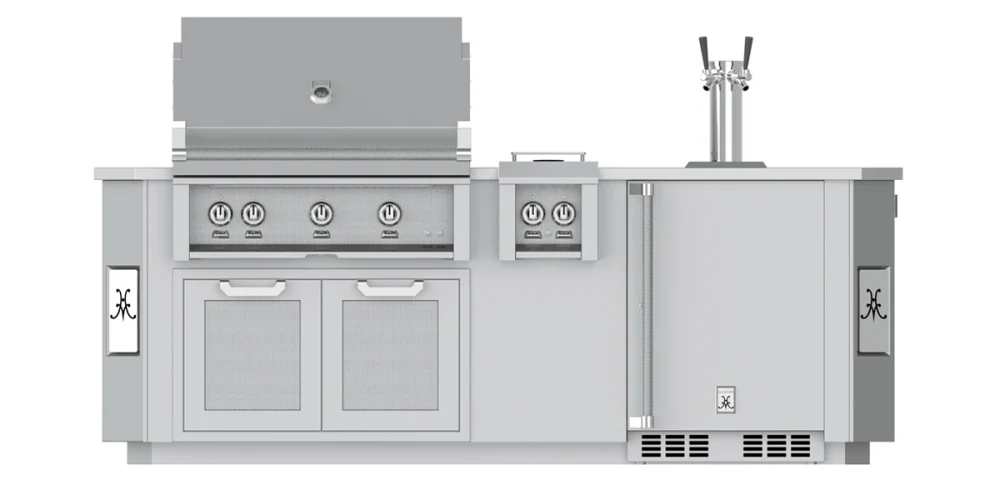 Popular additions have been the pizza oven, smoker and pellet grill. Outdoor vent hoods, warming drawers, full-sized prep sinks, bar centers, ice makers and even dishwashers.
Let's not forget to style it!
Beyond the necessary elements that make kitchen, well, a kitchen are the extra touches that make it beautiful. Adding furnishings, fun lighting, outdoor rugs and accessories will take the outdoor kitchen up a notch and help create a warm, inviting space that will make you want to cook outdoors all year round. And with a properly designed outdoor kitchen, you will be able to do just that! Invest in stylish dishes, utensils and serveware made for the outdoors (like melamine and acrylic) – I like going the fun route with color and prints.
The options are endless when it comes to finding the right elements to making your outdoor kitchen yours.
I hope your Spring is filled with joy and merriment with some outdoor fun!
Kindly,